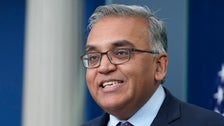 The White House is reportedly preparing to dissolve its COVID-19 team as Joe Biden's administration prepares to end the coronavirus national and public health emergencies on May 11.
Dr. Ashish Jha, the White House COVID-19 response coordinator, will probably vacate his position once the emergency officially ends, while many members of his team have already departed.
"As a result of this administration's historic response to COVID-19, we as a nation are in a safer, better place than we were three years ago," a senior administration official told The Post. "COVID no longer disrupts our lives because of investments and our efforts to mitigate its worst impacts.
The official added that while Americans will still have to deal with COVID-19, moving out of the emergency phase of the response is the next step in the nation's fight against the virus.
The emergency declaration was first put in place by then-Health and Human Services Secretary Alex Azar on Jan. 31, 2020, while President Donald Trump was in office.
Biden has since extended the emergency but announced earlier this year that it would expire in May.
Jha told WBUR last week this signals the country is in a "different and in a better place with COVID."
"It means that the emergency tools we needed to manage this virus are no longer needed in the same way," he said.
It also means some Americans will have to start paying for testing and antiviral drugs, though COVID-19 shots will remain free for the majority of the country.
The Centers for Disease Control and Prevention recorded a weekly total of 149,955 COVID-19 cases and just over 1,700 weekly COVID-related deaths, as of Wednesday.